---
Case study: Dermatophytosis in a dog
Clinical Pathology Case Study: Dermatophytosis (ringworm) in a dog
Background information
| | |
| --- | --- |
| Age: | 3 months |
| Sex: | Male |
| Species: | Canine |
| Breed: | Intact Malinois |
| History: | No history |
Clinical signs
A a pink, raised, cutaneous mass measuring 2 cm in diameter near the left elbow.
A second, pink, alopecic lesion cranial to his right ear.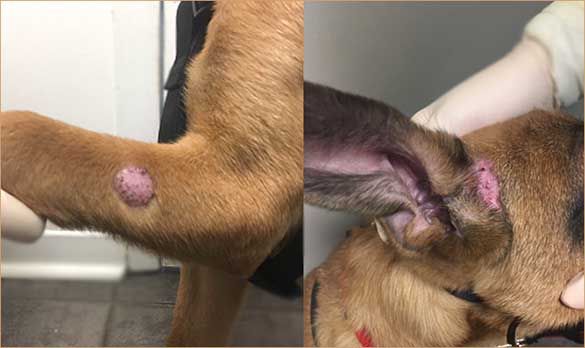 Description and interpretation
Marked suppurative to mixed inflammation is observed, as well as arthrospores (red arrow). These spores measure 3 to 5 μm in diameter and are round to oval. They stain dark blue with a thin clear capsule. Septate fungal hyphae (yellow arrow) are also observed within hair shafts.
Interpretaion: A cytological diagnosis of dermatophytosis (ringworm) was established.

Red arrow points to arthrospores

Yellow arrow points to septate fungal hyphae
Discussion
Dermatophytosis is a common superficial cutaneous infection in animals. Transmission to animals and humans usually occurs following contact with infectious arthrospores in hair fragments. Infections develop more easily in very young, very old, or immunocompromised patients, especially if a skin lesion is present.
Typical lesions are characterized by focal alopecia, crusts, broken hairs, and erythema. The head, feet, and tail are most often affected. Less commonly, lesions present as raised dermal nodules named kerions. Kerions form following the rupture of infected hair follicles. Arthrospores of dermatophytes are then found in the dermis, along with free keratin, causing an intense inflammatory reaction.
The majority of canine and feline dermatophytosis cases are caused by Microsporum canis, Microsporum gypseum, or Trichophyton mentagrophytes. A fungal culture or PCR test is required to accurately identify the dermatophyte involved. Following resolution of the lesions, some immunity against subsequent infections is usually present. The degree and duration of this immunity vary depending on the individual patient and the dermatophyte involved.
About the author
Caroline Piché, DMV, IPSAV, MSc, Diplomate ACVP
Dr. Piché graduated with a DVM degree from the University of Montreal in 2002, and completed a one-year internship in small animal medicine and surgery. She then completed a three year residency in clinical pathology, at the same time as a Master's degree in Veterinary Sciences. After graduating in 2007, Dr. Piché worked as a clinical pathologist at the diagnostic laboratory of the University of Montreal. She joined IDEXX Reference Laboratories in June 2008 and obtained her board certification soon afterwards. She has a great interest in cytology, hematology and exotic animals.
Dr. Piché and her husband live on the Island of Montreal with their two children and two cats. In her free time, she enjoys cycling, cross-country skiing, gardening and reading.
Should you have any questions about this case or wish to discuss the diagnosis in greater detail, please do not hesitate to contact the author.
View clinical pathology case studies
 
NEW: Dermatophytosis in a dog, by Caroline Piché, DMV, IPSAV, MSc, Diplomate ACVP
Anaplasmosis in a dog, by Julie Webb, DVM, DACVP
Blastomycosis in a dog, by Julie Webb, DVM, DACVP
Cryptococcus in a dog, by Carrie Flint, DVM, DACVP
Cutaneous mycobacteriosis (Leprosy) in a cat, by Natalie Kowalewich, DVM, DACVP
---
References
Greene C.E. Cutaneous fungal infections In: Infectious Disease of the Dog and Cat, 3rd ed., 2006, p. 550 à 565.
Raskin R. E. and Meyer D. J. Dermatophyosis In: Canine and Feline Cytology.  A Color Atlas and Interpretation Guide, 2nd ed, 2010, p. 38-39.
All case studies were prompted by real submissions to IDEXX Canada pathologists at one of our reference laboratories.
To protect the confidentiality of our customer and clients, the background information in each case has been slightly modified.
---