---
Clinical Pathology Case Study: Mammary fibroepithelial hyperplasia in a young cat
Background information
| | |
| --- | --- |
| Age: | 1 year old |
| Sex: | Female |
| Species: | Feline |
| Breed: | Domestic longhair |
| History: | No previous history |
Clinical signs
Sudden, non-painful enlargement of right thoracic, left thoracic, and left caudal mammary glands of 3 days duration.  
Cytology from all three sites are similar.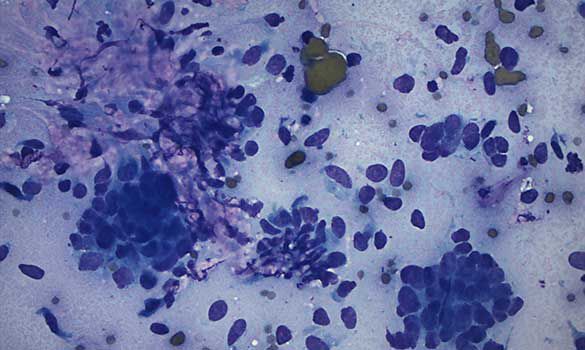 An aspirate from the right thoracic mammary gland
Cytologic description and interpretation
There are 2 populations of cells:
The most numerous are spindle cells scattered individually or in aggregates admixed with scant to moderate amounts of pink extracellular matrix material. The cells exhibit mild nuclear size variation.
The other population is epithelial, occurring in sheets and clusters. Nuclear-to-cytoplasm ratio is high: cells have dense round nuclei with scant amounts of basophilic cytoplasm, with little apparent cell or nuclear size variation.
Together with signalment and history, a working diagnosis of mammary fibroepithelial hyperplasia was made.
Discussion
Feline mammary fibroepithelial hyperplasia (FEH), also known as fibroadenomatosis or feline mammary hyperplasia, is a hormonally-mediated, non-neoplastic proliferation of one or more mammary complexes without milk production. Both ductular epithelium and mammary stromal components are represented on cytology.
The condition typically occurs in young, estrous-cycling female cats less than 2 years of age. It can also be seen in pregnant or pseudopregnant queens, and spayed female (or even male) cats receiving progestin-based drugs.
When only a single mammary complex is affected and/or, if it occurs in older female cats, it may be difficult to differentiate from mammary neoplasia. In these instances, histopathology is necessary to make a definitive diagnosis.
About the author
Emmeline Tan, DVM, DVSc, DACVP
Dr. Tan received her DVM from the Ontario Veterinary College in 2000, and was in companion animal/emergency practice for 5 years in the Pacific Northwest before returning to complete a DVSc in clinical pathology in the Department of Pathobiology, OVC . She became a Diplomate of the ACVP (clinical pathology) in 2009. From 2009-2013, Dr. Tan worked in the Department of Pathobiology, teaching clinical pathology to veterinary students, mentoring pathology graduate students, and performing diagnostic work for OVC Health Sciences Centre cases. Dr. Tan joined IDEXX in 2013.
Her special interests include hematology and oncology. When not working or reading, Dr. Tan enjoys spending time with her husband and two dogs, Winnie and Telly.
Should you have any questions about this case or wish to discuss the diagnosis in greater detail, please do not hesitate to contact the author.
View clinical pathology case studies
 
NEW: Dermatophytosis in a dog, by Caroline Piché, DMV, IPSAV, MSc, Diplomate ACVP
Anaplasmosis in a dog, by Julie Webb, DVM, DACVP
Blastomycosis in a dog, by Julie Webb, DVM, DACVP
Cryptococcus in a dog, by Carrie Flint, DVM, DACVP
Cutaneous mycobacteriosis (Leprosy) in a cat, by Natalie Kowalewich, DVM, DACVP
---
Reference:
Sollano-Gallego, L and Masserdotti C. Chapter 12: Reproductive System. In, Canine and Feline Cytology: A Color Atlas and Interpretation Guide, 3rd ed (Raskin R and Meyer D, eds.) Elsevier, St. Louis, 2016. p. 315.
All case studies were prompted by real submissions to IDEXX Canada pathologists at one of our reference laboratories.
To protect the confidentiality of our customer and client, the background information has been slightly modified.
---