---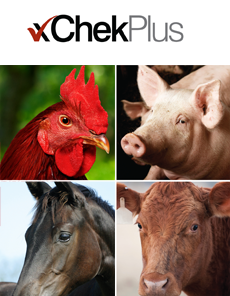 Learn more about xChekPlus:
1-800-548-9997 (U.S./Canada)
 
xChekPlus Software
Managing flock and herd health information is easier than ever.
xChekPlus software is your comprehensive, user-friendly tool for reading and interpreting ELISA results and for analyzing, reporting and managing health data. Offering improved functionality and new features, xChekPlus is the new version of xChek data management software, which has been widely used in private, public and government sectors. On a daily basis, veterinarians, laboratory personnel, production managers, farmers and field service employees around the world use this software to monitor the health of livestock and poultry.
Request a copy of the software.
xChekPlus Software system requirements
Minimum desktop or laptop requirements for using xChekPlus software:
Microsoft Windows XP,7,8 or 10 operating systems
2-GB RAM
Microsoft Office 2007 Suite (including Access, Excel and Word). For assistance with other versions of Office, please contact your local IDEXX representative.
500-MB hard-disk space
Internet connection
VGA (or compatible) monitor
Microsoft Windows-compatible printer
xChekPlus is compatible with both 32- and 64- bit systems.
 
A powerful data-management tool
IDEXX xChekPlus software comes preloaded with the complete portfolio of IDEXX assays. When you have xChekPlus, you're ready to test.
Advanced features make testing and reporting easier:
Flexible, plug-in architecture: Quickly install new assays, reports, readers and languages as they become available.
Multilanguage support: Use xChekPlus in the language you prefer, including right-to-left languages; select your preferred date format.
Moveable controls: Place test controls and internal controls on the same template.
Improved reports: Updated Johne's Management report; new Bovine Pregnancy and Internal-Control Tracking reports.
Better data export: Export data from specific fields; schedule exports for designated times.
Convenient case entry: Enter case information while you create a template.
Support for additional readers, including the Tecan Infinite F50.
Easy upgrade from xChek 3.3.
---