---
Now MyIDEXX helps you do more
Easily access your IDEXX Points and programs to manage your business
 
MyIDEXX gives you easy access to more tools and information to manage your business
Sign in once to do even more. Order laboratory supplies, take IDEXX courses, and learn about our products and practice-specific business information.
Track the status of your programs. IDEXX 360, IDEXX Points, and, coming soon, the IDEXX Preventive Care Challenge.
Securely manage your staff's access. Limit access to sensitive business information.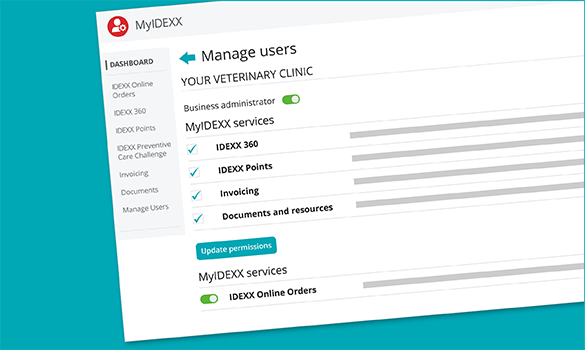 Designate a business administrator to access even more, even faster
Manage users: easily manage staff access to your IDEXX online services.
Manage business: access your IDEXX 360 dashboard.
Email notifications: receive email notifications when staff access to your IDEXX online services changes.
Complete this form to have an IDEXX representative contact you
Frequently asked questions
Need help becoming an administrator? Contact us.
Phone: 1-800-667-3411
---