---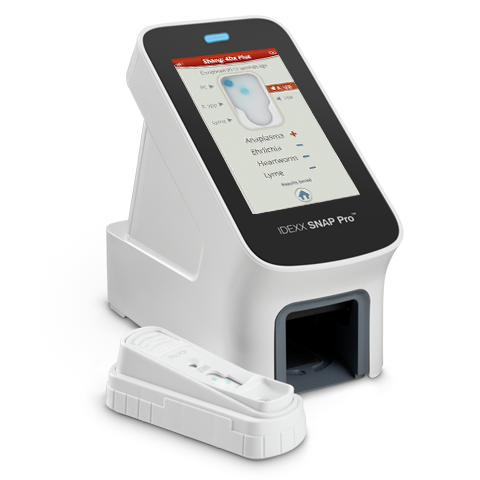 SNAP Tests
Reference-laboratory quality in the palm of your hand
Superior sensitivity and specificity produces reliable, accurate results for confident patient care
Results in minutes for answers during patient visits
Hands-off work flow: SNAP Pro Analyzer automation lets you focus on your patients.
See how reference laboratory-quality technology ensures SNAP tests' superior diagnostic sensitivity and specificity.
Connectivity
With the SNAP Pro Analyzer, your SNAP tests take care of themselves
The SNAP Pro Analyzer with new ProRead software activates, times and interprets your SNAP test results for you.
View interpreted results at a glance for quick and accurate health assessments and better staff efficiency.
Connect for the benefits of two-way integration: reduce missed charges and automatically include results in your patients' medical records.
---
Test Menu
Choose from a broad menu of accurate pet-side assays for many common diseases
Support
We're here to help you 24 hours a day, seven days a week
Customer Support: 1-800-248-2483
Product insert & resources
Access product inserts, accuracy data, sample preparation, results interpretation information and more.
Billing & invoicing support for Veterinary Practices
Access your practice's invoices and statements 24 hours a day, 365 days a year.
---
Incentive programs
SNAP Up The Savings
Greater savings and clinical value for the SNAP tests you use every day. Learn about the program.
References
Companion Animal Parasite Council. CAPC general guidelines. www.capcvet.org/capc-recommendations/capc-general-guidelines. Accessed December 9, 2015.
Companion Animal Parasite Council. CAPC recommendations: Giardia. www.capcvet.org/recommendations/giardia.html. Accessed December 9, 2015.
Schultz RD, Larson LJ, Lorentzen LP. Effects of modified live canine parvovirus vaccine on the SNAP ELISA antigen assay. J Vet Emerg Crit Care. 2008;18(4):415.
---