---
Clinical Pathology Case Study: Microvascular dysplasia in a dog
Background information
| | |
| --- | --- |
| Age: | 1 year |
| Sex: | Female |
| Species: | Canine |
| Breed: | Yorkshire Terrier |
| History: | See below |
Clinical signs
For the past week, this young terrier has experienced an adverse drug reaction, and recently seemed more lethargic. In addition, she has always had a sensitive stomach.
The results of the bloodwork are presented in the image to the right.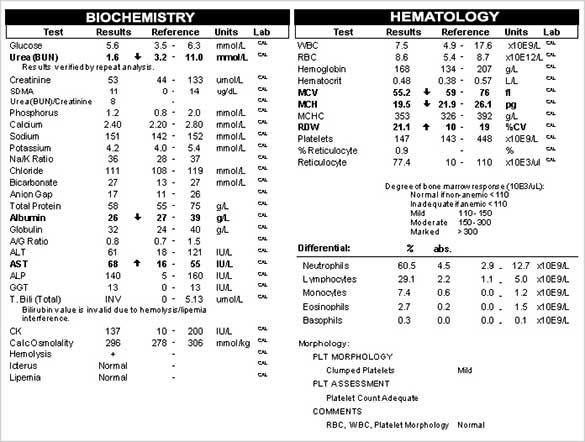 Follow up diagnostic tests and interpretation
Given the results above, a bile acids panel was performed and plasma protein C levels were measured. 

Interpretation: Results are suggestive of microvascular dysplasia (MVD).
Discussion
Microvascular dysplasia (MVD) is a vascular anomaly found in small breed dogs and in particular in terrier type breeds. It is a polygenic disease and has a vast clinical presentation. The degree of vascular change is extremely variable and this accounts for the markedly different clinical presentations. Dogs that are severely affected will sometimes have clinical signs as puppies up to and including hepatic encephalopathy. Some will also have concurrent portosystemic shunts (PSS). 
There is a large percentage of affected dogs who are diagnosed when being screened for elective surgery. Others are diagnosed based on abnormal bile acids done when they are being screened for pre breeding health checks. These dogs may live a long and healthy life and yet others will present with evidence of liver dysfunction. These dogs may be perfectly normal until they are adults or even in their senior years and there is loss of liver mass/function secondary to other disease. 
The diagnosis of MVD requires a biopsy to be definitive but there is a test that can be done to aid in differentiating from PSS. This is an important differentiation as MVD cannot be surgically corrected but needs to be medically managed. Plasma protein C is a coagulation protein. In most dogs with MVD this value is usually within the normal reference interval, as it is in this case. In dogs with portosystemic shunts the Protein C level is decreased. 
Clinical signs and changes in laboratory work noted with MVD are similar but often milder than those seen with PSS - low urea, low mean cell volume (MCV), low albumin and possible changes in liver enzymes. Other dogs with MVD will be completely normal clinically and on blood work, but will have a significant abnormality in their bile acids panel. 
Yorkshire Terriers were one of the first breeds to be listed as being prone to this. Now it is considered a differential in many other small breed dogs.
About the author
Cathy Monteith DVM, MVSc, DACVP
Dr. Monteith received her BS in agriculture from the University of British Columbia in 1985. In 1989 she received her DVM from Western College of Veterinary Medicine (WCVM) at the University of Saskatchewan. After practicing at a mixed practice in Ontario and a small animal practice on Vancouver Island, she returned to WCVM and received her MVSc in 1993. Following a senior diagnostic fellowship year she was board certified as a clinical pathologist by the American College of Veterinary Pathologists in 1994. She held a temporary faculty position at WCVM and conducted research in lentiviral infections in sheep in 1994–1995.
In the winter months she is a rink mom with a daughter in figure skating and a son in minor hockey. In the summer she enjoys fishing and camping at the numerous lakes in central/northern Saskatchewan.
Should you have any questions about this case or wish to discuss the diagnosis in greater detail, please do not hesitate to contact the author.
View clinical pathology case studies
 
NEW: Dermatophytosis in a dog, by Caroline Piché, DMV, IPSAV, MSc, Diplomate ACVP
Anaplasmosis in a dog, by Julie Webb, DVM, DACVP
Blastomycosis in a dog, by Julie Webb, DVM, DACVP
Cryptococcus in a dog, by Carrie Flint, DVM, DACVP
Cutaneous mycobacteriosis (Leprosy) in a cat, by Natalie Kowalewich, DVM, DACVP
---
References
Evaluation of plasma protein C activity for detection of hepatobiliary disease and portosystemic shunting in dogs. Toulza O, Center SA, Brooks MB, et al. J Am Vet Med Assoc 2006;229:1761-1771.
Fundamentals of Veterinary Clinical Pathology. Stockham and Scott. Chapter 13 p 462-484. First Edition.
www.vet.utk.edu portosystemic shunts
merckmanual – www.merckmanual.com Sharon Center 2015
JAAHA: Hepatic MVD in dogs a retrospective study of 24 cases (1987-1995) JAAHA 2000 Sept -Oct 36(5) 385-9. Christiansen J et al.
Hepatic vascular malformations in small dog breeds: what the textbooks don't tell you. Sharon Center DVM, DACVIM http://www.2ndchance.info/portosystemicShunts-Center200X.pd
All case studies were prompted by real submissions to IDEXX Canada pathologists at one of our reference laboratories.
To protect the confidentiality of our customer and clients, the background information in each case has been slightly modified.
---