---
Cornerstone Software features
Cornerstone helps you work smarter now and meets your future needs
Core features
Cornerstone Software comes with features that streamline your workflows and save your team time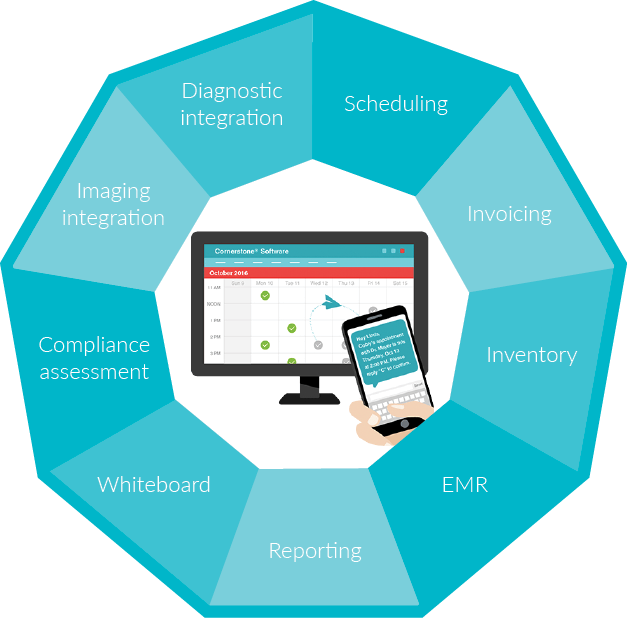 Diagnostic integration
Eliminates mistakes in ordering and data entry.
Scheduling
Provides staff with visibility to all practice activity.
Inventory
Helps ensure you have the products you need.
EMR
Keeps patient records consistent and complete.
Compliance assessment
Alerts staff about every eligible care opportunity.
Imaging integration
Allows you to select, order, and view diagnostic images within your software.
Invoicing
Automates tasks within your invoicing workflow.
Reporting
Ensures access to your key performance indicators.
Whiteboard
Tracks patient status and upcoming tasks.
Essential services
Cornerstone Software gives you the flexibility to add what you need to boost practice efficiency
Revenue-boosting apps and services
Get superior, secure, and simple integration with more apps, services, and products than any other veterinary practice software. We're consistently adding new apps and services to extend your capabilities.
IDEXX diagnostics
IDEXX in-house diagnostics
IDEXX Reference Laboratories
IDEXX Telemedicine Consultants
CardioPet ECG Device
Other diagnostics
ANTECH Diagnostics
Marshfield Labs
Heska
Abaxis
Anipanion
BD Pyxis
CareCredit
Cubex
Demandforce
IDEXX Online Orders
Instinct
LifeLearn
MWI
Omnicell
OpenEdge
Patterson eShelf
QuickBooks
Review Wave
Trupanion Express
Vetsource
Veterinary Pharmacy Reference
Vetstoria
Speak with an IDEXX specialist about Cornerstone Software today
Why choose Cornerstone?
The industry's most integrated software
Dedicated, white-glove training and support
Experienced team solely focused on data conversion for a smooth transition
Flexible payment options
---