---
Built-in image capture systems give you and your veterinary practice multiple sets of eyes
When you think of images and cameras in veterinary medicine, you may immediately think of diagnostic imaging and surgical procedures. But advanced image capture systems are used for so much more. With today's cutting-edge veterinary technology, artificial intelligence (AI) uses the images taken by the capturing system to carry out a myriad of automated functions so that you can prioritize your patients and clients. It's like having multiple sets of eyes that ensure processes go smoothly at your practice. Sample loading errors are caught before they slow down your workflow. Quality control measures are regularly performed.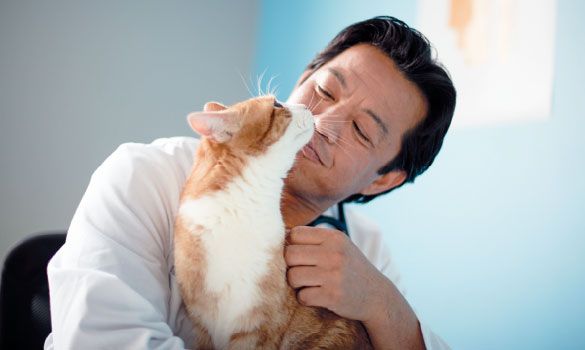 The Catalyst One Chemistry Analyzer, ProCyte One Hematology Analyzer, and SediVue Dx Urine Sediment Analyzer are all equipped with their own version of an advanced image capture system to help drive efficiency and improve quality control at your practice. Within our innovative analyzers, they not only help you "see" more, but they serve as "eyes" for other powerful features, too. With the image capture systems, your practice runs more smoothly, regardless of the number of clients that come through your doors. 
Let's explore three major benefits of IDEXX in-house analyzers featuring onboard image capture systems.
Maximizing time efficiency so there's no delay in your practice's care delivery
During patient sample analysis, a couple of processes tend to be significant drivers of time inefficiency. One is the loading process. With some analyzers on the market, loading samples incorrectly is a high-cost mistake. Imagine this: You load your samples, press GO, and step away to perform some other task. You return to the analyzer, only to find that it never started the run in the first place. 
The Catalyst One analyzer's image capture system prevents this from happening. By visually scanning the sample drawer, it spots loading errors within seconds and alerts the user immediately. That instant notification you receive when something's wrong or missing allows you to course correct on the spot and save precious time. Did you forget to load the sample? Not to worry, the analyzer will notify you of the specific reason for the holdup. 
The image capture system on the Procyte One analyzer is similarly programmed to be the eyes in the back of your head and maximize your time. It flags loading errors, identifies which tube is being used, and then adjusts accordingly to draw the sample. The run won't happen until the mistake is fixed, and sample waste is reduced. 
For the SediVue Dx analyzer, the image capture system, integrated with a built-in inverted microscope, cuts down the time it takes to do typical real-time care tasks, as well. With this analyzer, the system works in tandem with artificial intelligence to transform dry-slide preparation. What would typically take 20 minutes is cut down to a 3-minute process.

Automating quality control so you can forget about it
Working in the veterinary profession, your days are often very busy, and time inefficiencies are not something you want to face. The Procyte One analyzer helps you avoid time traps because its image capture system simplifies and shortens the entire quality control process. It scans the expiration and lot number—eliminating the need to scan bar codes manually. And because it runs automatically in the background, you don't need to interact with the process at all.
Ultimately, you can save time, manage your patients, and remain confident that your in-house analyzer runs efficiently and generates accurate results.
Powering other product features
The image capture systems in the Sedivue Dx and Catalyst One analyzers are integral to many of the in-house analyzers' smart features and their ability to help reduce inefficiencies for you and your team.
The Sedivue Dx analyzer's image capture system, and built-in inverted microscope lenses, takes digital images of urine sediment for the analyzer's algorithms to analyze the sample and identify sediment that may be present. It also automates the light and contrast settings and leverages a broad field of view providing you with high-resolution images you can share with peers or clients. The system captures up to 70 high-resolution images per run—much faster than it might take you to do so manually. With the SediVue Dx analyzer, the number of times you might need to manually examine slides under a microscope is dramatically reduced.
Within the Catalyst One analyzer, the image capture system works with artificial intelligence to determine the best processing procedure. Think of a car with a backup camera. By looking into the camera display, you can chart the best way to reverse into or out of a position. The Catalyst One analyzer works in somewhat the same way. Its built-in image capture system takes a picture of the sample and shares it with the analyzer's algorithm to determine sample quality. Meanwhile, the second camera in the system examines the Catalyst slide bar codes. These bar codes contain processing information that the AI decodes and then carries out.  
All of this happens automatically and right in the analyzer—all you have to do is load the samples and slides.
---
With these built-in image capture systems, it doesn't matter how busy your practice gets. The IDEXX analyzers take some of the load off you and let you focus on your patients and clients.
Learn how evolving technology can help your practice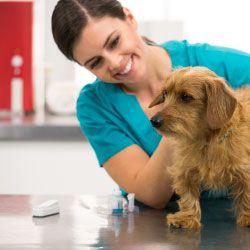 Veterinary technology that evolves as your practice does
Proactive in-house technology that works behind the scenes to ensure everything runs smoothly at your practice. Read the article.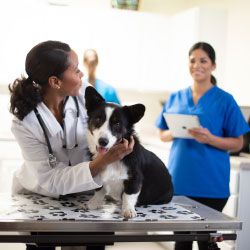 Artificial intelligence in veterinary medicine leads to efficiency and superior accuracy
The use of artificial intelligence (AI) is supercharging the field of veterinary medicine. Read the article.
Learn more about a specific analyzer. A representative will help you every step of the way.
---