---
Preventing Antibiotic Residues in Milk
Guidelines to help keep milk free of antibiotic residues.

Prevent disease to minimize the use of antibiotics:
Maintain good herd health; use best management practices for animal husbandry.
Diagnose sick animals early and accurately; take immediate action.
Practice farm and herd biosecurity.
Mark and separate treated cows from the milking herd.
Follow directions on drug and medicated feed labels:
Note whether drug is approved for lactating cows.
Follow instructions for treatment dosage, frequency and route of administration.
Follow label directions for medicated feed, and never use feed intended for other livestock.
Adhere to recommended milk-withholding time.
If you treat cows "extra-label," test all extra-label-treated cows before putting them back into the milking line.
Withholding times for extra-label treatments are unknown.
Test all dry-treated cows, especially those that freshen early, before putting them back into the milking line. Dry-cow treatments last longer.
Keep good treatment records:
Make one person responsible for treating cows and monitoring records.
Record the following:

ID numbers of treated cows
Dates and times of treatment
The antibiotic used, its dosage, frequency and route of administration
The drug withdrawal period

Review and check records at every milking.
Be informed of treatments given by your veterinarian.
Keep milk from treated cows out of the milking line:
Withhold milk from any cow receiving oral, intramuscular, udder infusion or intrauterine antibiotic treatments and some salves and sprays.
Segregate and test all purchased herd replacements before introducing them into the milking herd.
Milk all treated animals last.
Discard milk from all four quarters of udder, even if only one quarter was treated.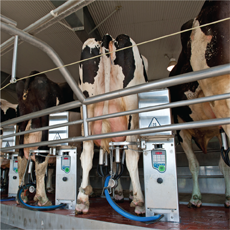 For information or to order:
Call IDEXX Technical Services, 1-800-321-0207.
---