---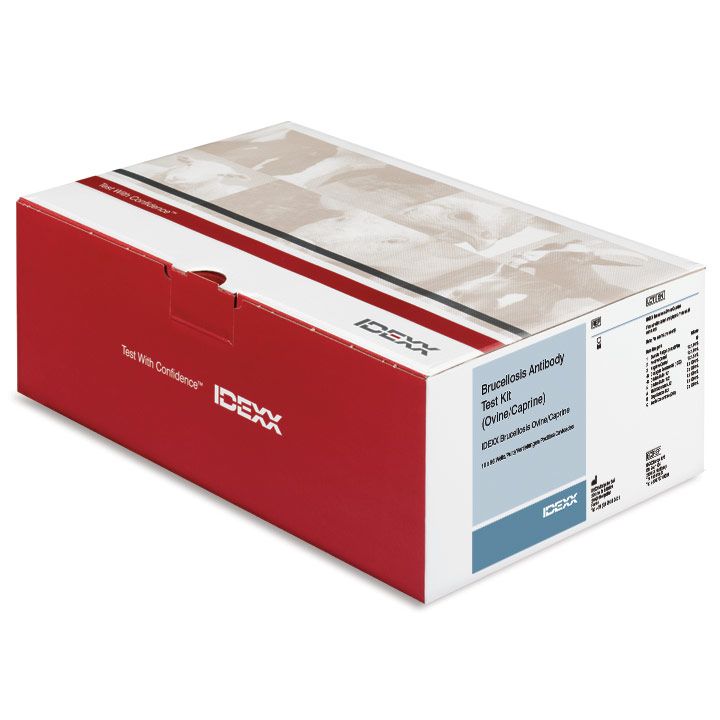 Box sizes and labels will vary.
IDEXX Brucellosis Ovine/Caprine Ab Test
Ovine Brucellosis
This kit can be used only for experimental purposes in EU countries and not for regulatory analysis. Indeed there is no international standard for the determination of detectability for ELISA for small ruminants. The cutoff proposed for this test has been defined by the analysis of positive and negative sera coming from well-known herds. It corresponds to a serum situated at around 15 international units in agglutination method.
* Availability / Distribution: Outside the U.S. 
Test details
---
Part numbers and sizes
P04310-10 (10 plates/strips)
About Ovine Brucellosis
Ovine brucellosis is caused by a bacterium called Brucella ovis (B. ovis). All breeds of sheep are susceptible to brucellosis, which may cause considerable economic loss due to increased culling of rams, reduced lamb marking percentages and extended lambing seasons. The disease produces inflammation of the epididymis in rams and of the placenta in pregnant ewes. Ovine brucellosis has been recorded in sheep from Australia, New Zealand, the United States, South Africa and Europe.
The infection of pregnant ewes leads to abortion and neonatal lamb deaths due to microscopic and macroscopic changes occurring in the placenta and fetus. Infection does not persist in nonpregnant ewes, but may persist for several months in pregnant ewes. This characteristic has an impact in the control of the disease.
In many countries, the routine use of vaccines against brucellosis is no longer allowed. Brucellosis eradication programs are now based exclusively on the serological screening of sheep and cattle herds to detect and remove infected animals.
---

* Not all products are available and/or registered in every country.
---