---
IDEXX VetLab UA Analyzer
Automatically reads and captures strip results
Save time and eliminate errors with one-button operation and results in about 80 seconds.
Automatically capture IDEXX UA Strip results and integrate with the patients' medical records and invoices.
Improve results with consistent interpretation and colour compensation for darkly coloured samples.
Automate your work flow with the IDEXX VetLab Station.
---
Test menu
Parameters
pH
LEU (leukocytes)
PRO (protein)
GLU (glucose)
KET (ketones)
UBG (urobilinogen)
BIL (bilirubin)
BLD/HGB (blood/haemoglobin)
Note: The IDEXX VetLab UA Analyzer does not read or print NIT (nitrate) and SG (specific gravity) results. Experts agree, specific gravity should be measured with a refractometer.
Specifications
Dimensions & weight
Width: approximately 15.0 cm (6 in)
Depth: approximately 29.0 cm (11.5 in)
Height: approximately 9.4 cm (3.7 in)
Weight: approximately 0.8 kg (1.7 lb)
All technical specifications:
IDEXX VetLab UA Analyzer Operator's Guide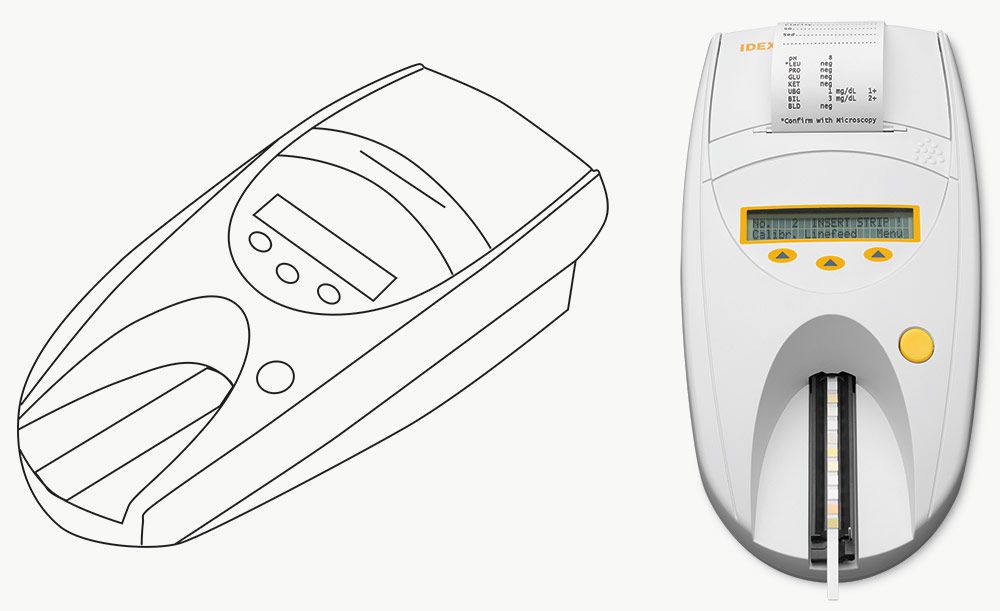 Related products
Get the most out of your IDEXX VetLab UA Analyzer

View and trend all your results
Get a more complete picture of your patient's health with IDEXX VetConnect PLUS.

Simplify your work flow
Manage all your analysers from a single screen via the IDEXX VetLab Station Laboratory Information Management System.

Follow up for more
Follow up initial testing with urine culture and sensitivity, urine protein: creatinine ratio (UPC) or RealPCR testing at IDEXX Reference Laboratories.
---
IDEXXCare Plus
Keeping your practice up-to-date and running smoothly is the IDEXXCare Plus promise. We're at your service 24 hours a day, seven days a week to help you deliver the best veterinary care and customer experiences possible.
---