---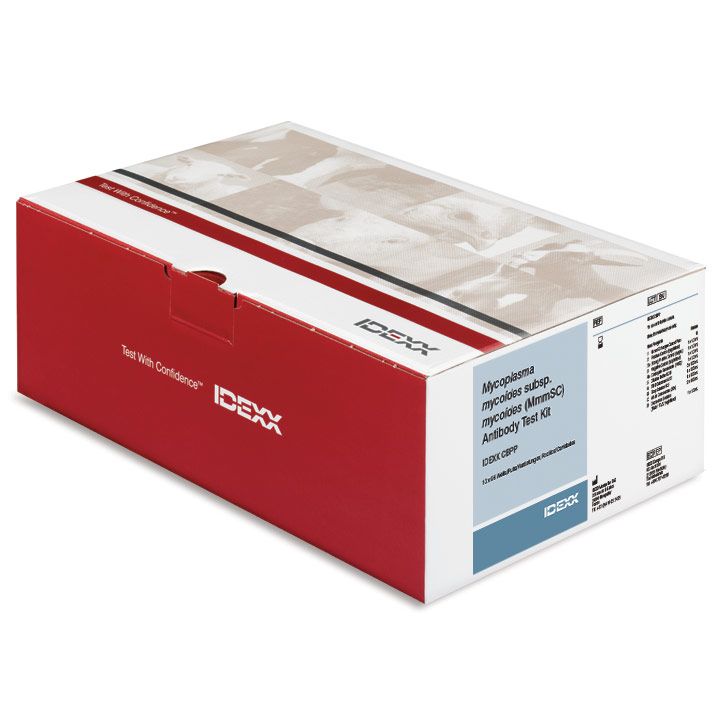 Box sizes and labels will vary.
IDEXX CBPP Ab Test
Contagious bovine pleuropneumonia (CBPP)
The IDEXX CBPP Ab Test is a competitive ELISA (cELISA) based on a monoclonal anti-MmmSC antibody (named 117/5). It was developed by the CIRAD-EMVT (FAO world reference center for CBPP), as an alternative to the CFT for the OIE, and can be used for official CBPP control. This test is under evaluation by the Joint Division FAO/AIEA within the framework of a Coordinated Research Project (CRP).
* Availability / Distribution: Outside the U.S. 
Test details
---
Part numbers and sizes
P05410-10 (10 plates/strips)
About Contagious bovine pleuropneumonia (CBPP)
Contagious bovine pleuropneumonia (CBPP) jeopardizes animal health and local food production in developing countries, making it one of the most important infectious diseases in cattle. In Africa, for instance, naive herds experience losses of up to 80% and survivors often become chronic carriers with diminished milk and meat production.
CBPP is caused by Mycoplasma mycoides subsp. mycoides biotype Small Colony (MmmSC). It spreads via contact between infected and healthy animals and presents in multiple forms. In the acute stage, cattle have noticeable respiratory symptoms, including coughing, nasal discharge, dsypnoea, and polypnoea caused by pneumonia and pleurisy lesions. In the subacute form, cattle have few detectable symptoms and, therefore, pose a significant transmission risk.
In both cases, CBPP is difficult to distinguish clinically from other causes of respiratory disease in cattle. Yet prompt detection is necessary to maintain animal health and secure food production. Serological screening allows for this detection and should be an integral part of a disease control program. The IDEXX Contagious Bovine Plueropneumonia Ab Test is one effective option.
All testing solutions
IDEXX CBPP Ab Test
---

* Not all products are available and/or registered in every country.
---